Maintaining your hair is not easy, and maintaining your curly hair can be the most difficult thing ever! Here, we have come up with some of the best layered hairstyles for curly hair to help you take care of your precious tresses.
If you are wondering how a layered hairstyle will work with your curls, let us find that out here. A layered cut makes it look like your hair volume has increased, and the definition of the curls has improved. When different sections have different lengths, the hair becomes more bouncy and looks thick. It will look good and elegant on you.
If you are someone who keeps experimenting with their hairstyles at home, you have reached the right place. We can help you choose the best hairstyle that suits your lovely curly tresses. Keep reading to know more!
Most of us grew up traumatized by bad salon experiences and stylists who made us feel like our natural texture was inherently wrong. And we know just how challenging it can be to find haircut inspiration that features real, natural curls. Luckily, there is a growing number of curly hair specialists today who have fully embraced the beauty and versatility of curls – and are teaching others how to do the same. Here are 18 haircuts by top stylists in the industry, featuring real curls of varying lengths, shapes, sizes and styles.
1. Fringe and fro
Isabella: This is the type of shape that walks into the room before you do. It definitely gets noticed from all directions and angles. What makes this square curved shape eye candy is that it's naturally and unapologetically curly while softening it with a fringe commonly known as a bang. The cushion we mainly refer to as frizz is utilized to create a different type of volume. This is a rounder, expanded, denser volume. We can appreciate the thickness of the hair. The fringe area draws attention to the eyes and it also creates a cut out face frame.
Who does this work best for? This is for thicker and denser curls or higher textures of curls. It's also for the curly girl who is not afraid of attention. Aside from a small fringe trim done every 6-8 weeks, a full haircut salon visit won't be necessary for a while. Air drying is best for this look before picking it out into a fro.
2. Oval shape with long layers
Shai: Alyssa's hair is very dense. She has lots of it. This type of hair is usually really heavy and doesn't have a lot of movement. This shape is great for the curly girl that wants to keep as much of the length but loves volume. It's ideal for short to medium hair but can work on long hair. I decided to create an oval shape to contour her cheek bones and allow me to gradually build weight on the crown for that added height on top. The entire cut is square to remove bulk but keeping the top a bit shorter and rounded. This shape works great with the curl by curl method to create that random uneven look even though it all blends in.
Who does this work best for? This is another versatile shape that works well on all hair textures.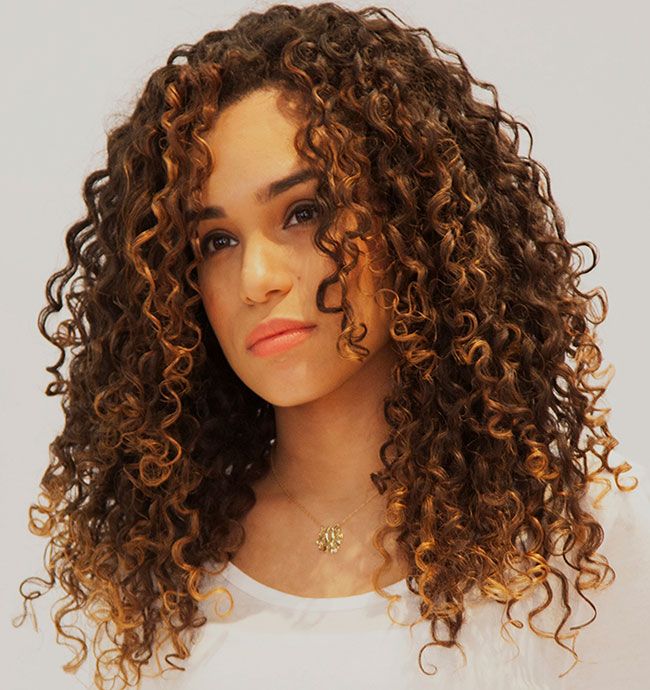 3. Versus Diametrix
Christo: This is a long diagonal angled cut in which the Diametrix Cutting Technique is applied to take away the bottom bulkiness of the style to allow the curls to lie beautifully framed around the face. We simply call this Versus Diametrix because the frame is cut on the opposite side of the face to allow the diagonal angles of hair to frame the face by avoiding the awkward "shelf effect." Versus Diametrix allows clients with long curls to enjoy the versatility of hairstyles, as well as create more defined curls and avoid frizz. We used Curlisto's Repair Cream, Lotion Plus, and Glow & Shine.
Who does this work best for? Long length hair for all curl textures ranging from loose to tight.
4. Foundation cut
Stylist: Robin Sjobolm, owner of Southern Curl salon, Curly Hair Artistry's Curly Artist of 2015 and one of the Refinery29's top 15 curly hair artistsRobin: This is Candace, a client of mine. I call this cut a "Foundation Cut" which is a curl by curl cutting method I developed based on DevaCurl dry cutting training principals. I call it a foundation cut because the cut is built from the foundation up. Each curl is trimmed and shaped so that it does not sit on the section below it, which gives the cut a beautiful silhouette.
Who does this work best for? This cut creates a weightless shape that is beautiful on curl types 3B-4A.
5. A-Line bob
Stylist: Shai Amiel, owner of CAPELLA salon
Shai: This girl wanted something a little funky. She grew out her hair to her "dream length" but when she achieved it she realized she wanted something a little edgier and shorter. I cut the back on the shorter side but left the front as long as I could for that dramatic look. The back is really rounded that works well with this length. I also cut some shorter fringe for a more dramatic effect. The entire hair is layered for movement and volume. The top has a square shape that works well for a line haircuts.
Who does this work best for? This shape works well for all curl types. I love versatile looks that can be incorporated for everyone.